Deportation Order Put in Place for All BYU Democrats
PROVO — Brigham Young University's new president, Kevin J. Worthen, recently announced the strategic relocation of all students claiming membership in the Democratic Party from Provo to BYU-Idaho.
Defending his initial decree as chancellor of the Lord's university, Worthen maintained that those affiliated with the wayward party aren't radicals, but that they would simply "feel more comfortable" in an environment more conducive to their "unique lifestyles." 
As part of Worthen's mandate, all BYU Democrats will be transported via "icky" Greyhound buses to BYU-Idaho before the beginning of the 2014 fall semester.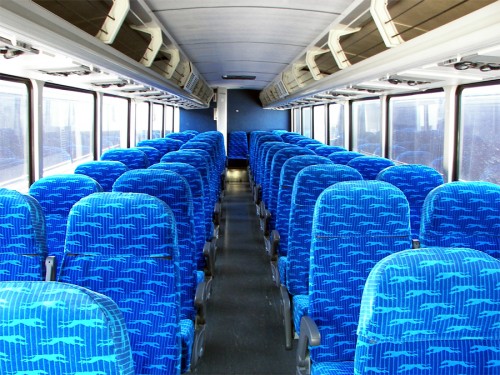 The action was finalized after members of the BYU College Democrats club executed a silent sit-in yesterday directly in front of the Chick-fil-A in the Cougareat, impeding customers from placing and retrieving orders.
Cornell Adams, President Worthen's attorney, commented on the messy scene. Said Adams, "I'm troubled by all of this open, youthful rebellion. I don't remember where it is in the Doctrine & Covenants, but it specifically states that when rainbow political agendas are widely accepted in this country and especially in the holy establishment of BYU, the Constitution will 'hang by a thread.'"
Continued Adams, "It's ugly that a peaceful, Christian establishment like Chick-fil-A, who's been frying chicken in vats of conservative, anti-Carter, peanut oil for decades, would have to put up with something like this. Where two or more liberals are gathered in the name of Hillary Rodham, the Spirit simply can't be felt."
BYU Police Chief Fred Kiffin told reporters, "They're everywhere, but we'll nip 'em in the behind soon enough because they ain't too tricky to find, ya know? Those females'll have a few counterfeit oil vials in their shoulder satchels for their black magic and the men'll sport mustaches every month of the year 'cept November, justa be most unusual. Sometimes even the womenfolk do the same. They's a peculiar people, I tell ya."
Officials have asked that any information regarding the whereabouts of confused or closet Democrats be phoned in to the Honor Code office at 1-800-BYU-WWJD. Helpful information will be rewarded with free Chick-fil-A gift cards.