Local Pioneer Reenactment Trek Warned Their Departure Date is Too Late in the Season
PROVO—Due to early summer events and multiple scheduling conflicts, the yearly pioneer trek across the Utah Valley remained an afterthought to members of the Provo 6,278th Stake. It was prayerfully decided in the spring that the "Jaradite Barge Boating Binge" would be in June, human foosball in July and the scripture trivia water extravaganza would conclude the summer in August. Of course, this pushed the annual pioneer trek into the dangerous fall months of September and October.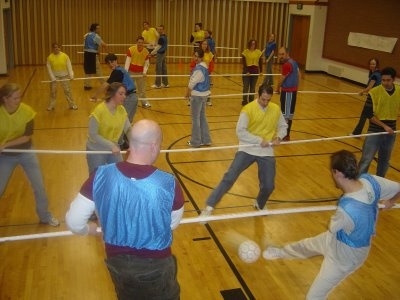 "The glorious work will not be thwarted by the scheduling conflicts of man," Brother Herald Shuman, Stake Events Planner, remarked with indignation. "Like the pioneers of old, we know the risks and the great sacrifices. With faith of our fathers, we will make it to the promised land."
Pioneer company president Jeb Hanson remarked tearfully, but with a spiritual somber, the fact that the delayed departure overlapped with football season.
"I've never missed a BYU game before," said one anonymous handcart company captain reenactor who would rather be somewhere else. "After the last game started, I told myself, 'just to the top of that hill, then I will expire and leave to find reception to follow the game.' But when I reached the hill the handcart began pushing me. Many times I looked back to see no one. I called out, 'Who is there?' but there was no response. My testimony grew three sizes that day."
Priesthood leader Mark Kimball reported being very aware of the great trial of faith each "trekkie"  was currently experiencing, with some coming down with colds and hurt feelings, but ensured the reenactors that God would protect them.
"To those of you who choose fear over faith, saying, 'Wo wo be the poor soul who falters like those on the 64-bit Oregon Trail™ of old,' there is something those poor pioneers on the trail didn't have when they decided to caulk the wagon and float it: They didn't have the knowledge of a loving Heavenly Father and faith in his watchful plan."
Kimball then made a poor attempt at paraphrasing 1 Nephi 3:7. "And it came to pass that I will exceedingly do the things of God's commandments for we trust in the Lord and lean not unto our own understanding."  
The scripture reference sounded suspiciously wrong to many of those listening, but unfortunately Heavenly Father did not provide a way to Google search at Martin's Cove.