Satan Happy to See Patriots Back in the Super Bowl
BOSTON — The Prince of Darkness and Master of the Underworld was overjoyed to see his favorite New England Patriots back in the Super Bowl after a two-year absence.
"It feels good to be back," noted the Devil as he high-fived fellow Patriots fans stuck in hell. "I wasn't sure if they were going to come to play against the Colts in the last round, but my boys pulled it off."
Despite a two-year hiatus from professional football's biggest game, Lucifer noted that, with a little help from the big guy downstairs, the Patriots could win it all again.
"Hell, I'm impressed with all of the little tricks they've pulled recently," noted He Who Fell From Grace. "What, with the offensive linemen catching passes, receivers throwing touchdowns, and even deflating the footballs? I think Bill Belichick could take over for me when I retire in a few years."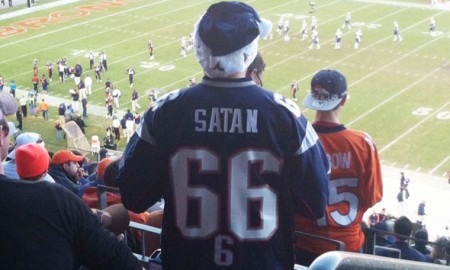 When asked whether he would try and affect the outcome of the match in any way, Lucifer mentioned that he didn't really have much to work with. "Sometimes I'll exchange peoples' souls for a Super Bowl win, but pretty much every New England fan has already traded theirs away already. So yeah, this year I'll just have to sit back and let the game take its course."
Although "pumped" to see the Patriots possibly win another title, Satan mentioned that he would also be quite happy to see the Seahawks win "since they are my second favorite team."