BYU Catering Refuses to Provide Cake for Gay Couple
PROVO – A gay couple is threatening to sue BYU Catering after being denied the wedding cake of their dreams, the Betty Crocker® Party Rainbow cake with Rainbow Chip Frosting.
Rick D'Anthony and Kevin Semot were set to celebrate their union-turned-marriage with a normal looking cake with a tasteful, as well as tasty, rainbow chip frosting. Their expected joy turned sour when BYU Catering refused service to the newlyweds.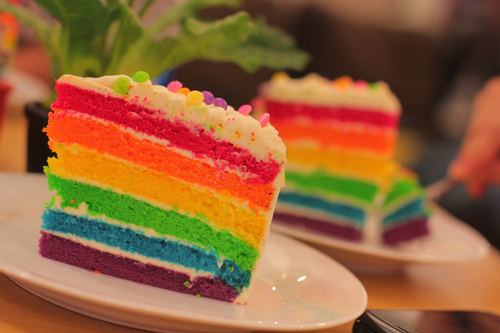 "We respect that we don't believe the same principles as the LDS Church, but their catering is tops. We didn't even want it to look like a wedding cake to raise any red flags," said Semot, a Salt Lake City native, "but they flat out said no."
"We asked if they just wanted sprinkles on it, and they just got irate," said sales associate Jamie Hines. "We offered them a Devil's food cake option, but then one of them just broke down crying while the other stormed out, dragging his sobbing companion behind." Hines added that sprinkles are usually reserved for the "heathen" cakes, since they are associated with baptism by sprinkling used by Catholics.
The catering branch of BYU food services had originally faulted ingredient shortages from Betty Crocker® with the ban on the same-sex wedding cake and frosting. However, follow up conversations made it clear that the shortage was not due to Betty Crocker®. Crocker herself insisted that "the cake mix and frosting had all been recently purchased by an Orem woman with a car full of PacSun shirts."
That Orem woman claimed that her acts were "for Utah County's own good."
Hunt also remarked, "Our pioneer heritage and cookbooks here at BYU catering allow us to make delicious treats, but only for sacred occasions, like a high priest being sealed to his fourth wife or the twentieth baby blessing of the month. Because of this, I mean because of the ingredient shortage, we are simply unable to make their cake."