The Devil Sad to See Patriots Miss Out on Another Super Bowl
BOSTON — The Devil, he who tempts and persuades others to do evil, is disappointed to watch another Super Bowl that won't feature the New England Patriots.
"I'm hoping for a good game, what with the Payton Manning versus the Seahawks's stout defense," said the one who fell like lightning from Heaven. "It's just a bummer I won't get to see Tom Brady and my Pats try and win another one."
A long time Patriots fan, the prince of darkness shuddered at the thought of being mistaken for a bandwagon Patriots fan.
"I warmed up to the Patriots back when Curtis Martin was playing for them in '95, way before we started playing in the Super Bowl on a regular basis," said the man known among his Latino friends as "El Diablo."
Satan also talked about how the team's success of the past fifteen years had spoiled him and the other Patriots fans. "It's a strange feeling when you're going from playing in the Super Bowl every year like we did in the 2000s to being lucky to get into the AFC Championship game."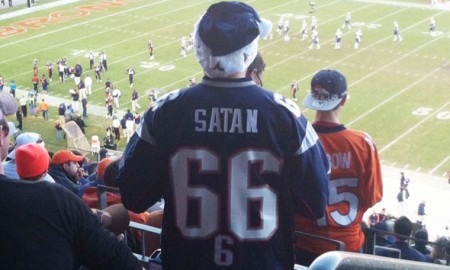 The son of dawn mentioned that persevering was difficult in the face of two straight seasons without a trip to the Super Bowl.  "I'm definitely committed to the team and try to help any way I can, you know? I try and make it to at least one game a year at Foxboro and any of the road games if they are close to where I'm staying for the weekend."
Lucifer was confident that next year things would be different for his team. "Once we take care of the injuries and get back to full health, you'll be seeing my Pats back in the Super Bowl next year; I'll make sure of it."