New One Hundred Dollar Bills: LDS Edition
WASHINGTON D.C. – Amidst the 14th day of the government shutdown, the LDS Church once again reaches out to a US government in need.
In response to a 400 billion dollar gift from the LDS Church, the US Treasury agreed to print a number of limited edition "I'm a Mormon" one hundred dollar bills. The bills have several new features that should inspire, uplift and bring hope to a country in need.
Feature #1: Celebrity Mormons Featured on Each New Bill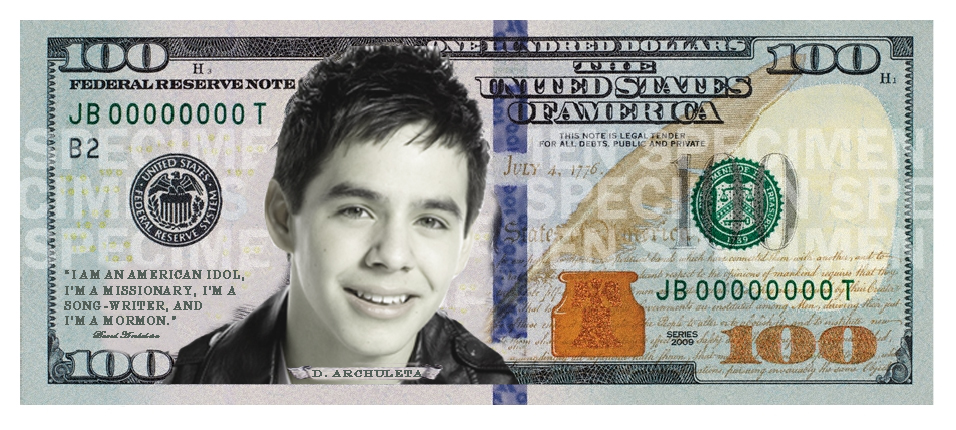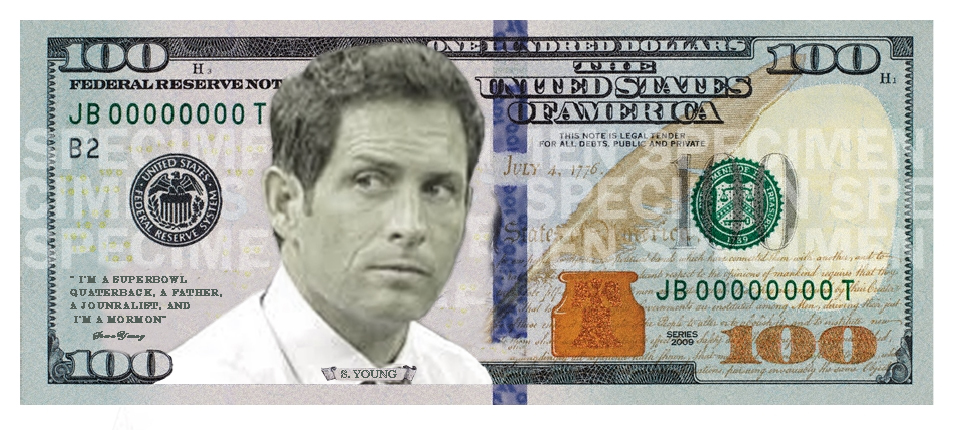 Designs are in the works to include other famous Mormons who have impacted society, including Gladys Knight and Steve Jobs.
Feature #2: QR codes to Mormon.org or Mormon Messages
On a rotating schedule, bills printed will have QR codes linking to select mormon.org pages or inspirational Mormon Messages.
Unfortunately, a recent study showed that only .002% of the US population use QR codes "grudgingly, yet on a regular basis". A whopping 89% said, "I wish all QR codes in the world were simultaneously destroyed."
Feature #3: Bills can play two hymns: "Count Your Many Blessings" and "Because I Have Been Given Much" 
Investing several millions in the project, the US Treasury has invented a microspeaker that can fit inside the dollar bill. When pressed, the chip plays the familiar tunes "Count Your Many Blessings" and "Because I Have Been Given Much".
"At first, we were a little skeptical of the Church's suggestion," said Chuck Kotansky from the US Treasury. "However, on some of our tests, civilians who used the musical currency were 60% more likely to donate that currency to the poor. The other 40% of the bills came right back to us in the form of taxes so we think we have a winner!"
For more information these rare LDS edition currencencies please visit the US Mint's Website: www.mint.gov/lds_bills