Mitt Romney Hits Rock Bottom
SAN DIEGO- Mitt Romney's political prestige and overall dignity took a huge hit after he was found stumbling around the streets of San Diego muttering traces of his various debates from the November election and loudly singing lyrics to various songs of the 1960's and 70's.
Romney's sad downfall and financial implosion began after the 2012 election with the launch of a new business named, "Mitt Romney's Singing Telegrams". Originally, Romney imagined that the notoriety he had obtained during the election would transfer into high paying clients. Unfortunately, that was not the case.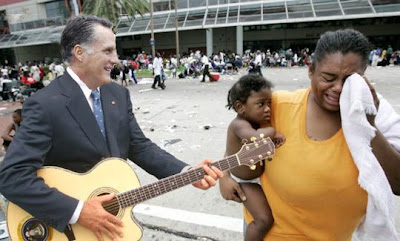 "Mitt is definitely going through some tough times right now," said ex-advisor of the formor governor's 2012 presidential campaign Pete Zimmerman. "Charitable organizations and various ward and stake talent shows have undercut Mitt's profits by asking him to sing for free and travel at his own expense." According to Zimmerman, after two months of business operations, Romney lost around $40 million of his personal funds.
Seeking new investments, Romney was approached by what he thought was a "Nigerian prince stranded in America." Romney was quick to provide the "prince" with a debit card and within a week all of his personal assets were sold or siphoned away to offshore accounts.
About his recent fall to poverty, Romney told Bunyion correspondents, "This has been a difficult time for me, but I am a rock, I am an island." After he finished the interview, he serenaded our reporters for close to two hours with various Simon and Garfunkel songs and sobbed incoherently for ten minutes.