Flustered Priest Enters Fourth Attempt of Sacrament Prayer
LEHI, UT — Sources report 16-year-old Jimmy Clusterfield has begun his fourth attempt at precisely reading the prayer for the water portion of the sacrament, after completely botching it up three times in a row.
"I'm not judging or anything but I don't think God would allow a worthy priesthood holder to screw up so bad so many times," Sister Jemima Carlisle told reporters while desperately trying to focus on how the atonement was a blessing in her life despite the thunderous fidgeting and palpable awkwardness that permeated the chapel.
"I felt so uncomfortable up there," acknowledged fellow priest Sam Bates, who had perfectly read the prayer for the bread only minutes before. "Anyway, we call him 'fourth try Jimmy' now."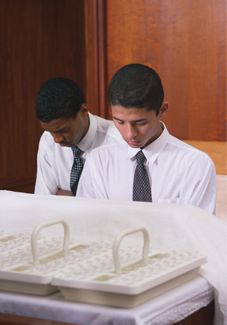 "I seriously considered just letting it slide on the third try," Bishop Clusterfield, Jimmy's father, admitted. "Jimbo got really close that time. But then I remembered that the Lord commanded, 'Be ye therefore perfect, even as your Father which is in heaven is perfect.' Plus, no way everyone missed it when he said 'then' instead of 'them' near the end."
"I was really sweating bullets by that third try," Jimmy Clusterfield told reporters seconds before beginning his fourth attempt, the sweat clearly visible on his furrowed brow. "I couldn't tell if I kept messing up because I'm unworthy or because I'm just a completely freaking incompetent idiot that can't read a simple prayer that I've read perfectly a thousand times in the past."
Jimmy did admit he felt bad for loudly muttering "Fuuuuuh" into the microphone after saying "bread" instead of "water" during his fourth attempt.