Narrow-Minded Woman Refuses to Believe that Ordain Women Group are Unchristian Apostates
SALT LAKE CITY—Sources report that friends have "completely given up" on 26-year-old Rebecca O'Donnell, an Ordain Women supporter, as she continually defends the "lunatic fringe" group.
O'Donnell, a part-time strategy consultant and student at the University of Utah, stated she will continue to participate with the controversial group, even though according to her friends "Ordain Women supporters worship a completely different God." April will mark twelve months since she began participating.
"I've been to the meetings, made a profile, and even participated in the wait for priesthood tickets. I think this group can really make a positive change in the Mormon and Christian communities," said O'Donnell, who friends note must be deranged to think a group of people advocating equality and compassion could be considered Christian.
O'Donnell's friends admit that they don't know much about Ordain Women. When asked what sources they've been using to learn about the group, one of O'Donnell's friends, 666th Ward Relief Society President Jessica Ludlow, replied, "To be honest, we haven't read about it except what A Well-Behaved Mormon Woman has to say about it. I always agree with Kathy Skaggs, so her opinion is good enough for me. Rebecca once invited me to read her profile on Ordain Women, but we all know that going to the actual source to learn about a religious minority's mission, faith, and beliefs is ridiculous and totally unnecessary."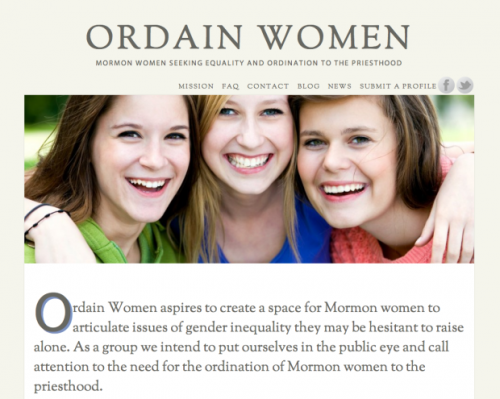 Friends also say that O'Donnell refuses to listen to their well-worded and "true" arguments. "When we start talking, she just zones out and we know we've lost her," said her sister, Judith. "We all know that Ordain Women is pretty much just a gateway group to harder stuff like Mormons for Marriage Equality, Mormon Stories podcasts, and the exmormon subreddit."
O'Donnell has publicized that she plans to demonstrate with Ordain Women tomorrow at LDS General Conference, marking her second consecutive trip there.